Advertise Your Business on Mobile/Web Search
Make your business information available to millions of mobile Searchers. Place your ad on 411sms mobile search for a minimal fee.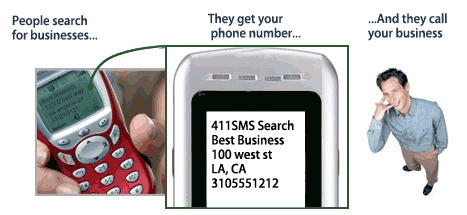 Why 411sms Mobile Search works?


Mobile search has the highest conversion
By the time someone decides to search for a business or a service on their mobile phone, they are already sold. They are really in need and looking to transact.

Mobile search has the highest reach
Over 192 million cellphone users can search this mobile engine, it's available via mobile web and also via text messaging search (available on all cellphones).

Instant Control and Feedback
Update your information, add more snippets or change coupons. You can view information about searches (frequency, city location, time, etc) and evaluate your ROI.

Displayed Online and Nationwide
Your ad will also be displayed on our online search engine and can be sent to the searcher's cellphone.

Simple Minimal Payment
No complicated bids. A simple low monthly fee enables your business ad (as low as $19.99/month*).
Easy 3 Step Setup
Step 1: Complete Business and Contact information
Step 2: Complete Payment information.
Step 3: Log into and activate your ad

Searching in Progress...